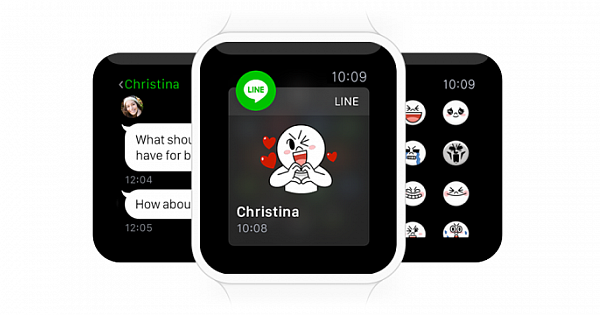 The popular social app rooting from Japan has made it big in serving the entertainment store of smartphone in the past years. The hugely popular app has made significant changes time and again to its interface and the whole appearance and usability factor to attract thousands of users across the World. Another big announcement that really excited the lovers of both Line app and the tiny sized yet giantly featured Apple watch featured recently on the company's site informing about the deal between apple and Line. Line will be supported by the Apple watch.
The announcement received a thumbs up and escalated the ever- growing excitement about the features and capabilities of the apple watch. In this time when people are still debating the awesomeness of the Apple watch, introducing easy social apps did give the news a boost. The good thing about having this app on the most-awaited band is that you will be able to receive messages and all the media, emoji and stickers of the mobile version right over this band.
Users will not only be able to receive messages, they will also be able to send texts and stickers just like the phone app. This facility shall save the users the trouble of sending audios every time. The Line app will be made available for the Chinese, Korean and Japanese users along with the conventional English and European language support. However, with all these abilities of the Watch version, the app will still have some functionality limits.
The first launch will see only a limited number of stickers and emojis available for the Watch version as compared to the mobile one. The users will also not be able to increase the repository because no download options are available.
The Watch users will also have a limited satisfaction in sending text messages and images as compared to the original app. With the apple watch in full force launch, there are also other apps that are in conjunction with the device. Line is the second major third company that is offering its app on the small screen with another popular social media app WeChat being the first one to do so. The company made the move in order to enable the users to chat, receive messages and do all kinds of activities while on the go.